Exploding Llamas? Noo!!
Picture the scene:
it's a standard Friday night and your two rowdy teenagers have been driving you round the bend all evening. The only way to get them to shut up and calm down is by getting them involved in game night (which you were meant to start later on when they were safely in their bedrooms and your friends arrived). The teens will inevitably get involved, and so you concede and allow them to choose a game.
Once more, they're arguing over which game to play. One of them halfheartedly pulls the Exploding Kittens game off the shelf AGAIN (or Exploding Kittens Online during COVID😉). A wise choice, but if your partner smugly 'nopes' you one more time, you may find yourself pulling a strop for the remainder of the evening. That's not going to go down well with your buddies, especially when they eagerly arrive, later on, cradling their bottles of joy to indulge in alongside games night. You need something to fulfill all generations and all personality types. You want something a little more invigorating… Something similar yet different… Something you can play with the terrible teens, as well as with your friends, but with just a lil' bit of drama thrown in…
Hmm, llama think about it.
The Ultimate Game Like Exploding Kittens
Ever heard of a game called Llamasters? No?
Well, it's kinda like the Exploding Kittens card game – except it isn't.
With both games launching through successful Kickstarter campaigns, that's just one of the few areas in which you'll find similarities. In Llamasters, you can expect a refreshing mix of wacky, loveable characters, various strategies, and stimulating game modes to shake things up.
Oh, and did I mention the part about AUGMENTED REALITY?
I'll get to that part a little later on because I know I've got your attention now – and, if I haven't, keep reading to see why llamas will inevitably end up capturing your (competitive and card game loving) heart.
Now, don't get me wrong – I'm a huge fan of Exploding Kittens, but recently I've been suffering from card game cravings – the kind of cravings that can't be satisfied by something too familiar, and that's what led me to the discovery of a game called Llamasters.
Like Exploding Kittens, it's a card game that is ideal for friends, families or even late-night game nights with the other grown-ups in your life.
Perfect for just the right amount of people (2-5 players), Llamasters hits that sweet spot every time as it's a remarkably versatile game. I've thought about different scenarios and had an array of experiences with it now, so you can make up your own mind. For example, here's an idea for you and your significant other.
Why not spice up your date night with some naughty llama cards?
Instead of mind-numbingly staring at your television screen once again, get your hearts (and tempers) racing with several games of Llamasters, instead. A bottle of wine is recommended as a peace token (depending on how badly your competitiveness irks your partner), but not necessary. 
Or, as I found, you can also use it to defuse the tension among bickering families. A different kind of 'defuse', I guess, if you're used to playing Exploding Kittens. Don't get me wrong, Llamasters, just like Exploding Kittens, comes with its own kind of tension – but this is the kind of tension that's equally spread across a fun, fierce, and forgiving time – simply perfect for a family setting.
After all, who doesn't like llamas?
Let's be honest here: llamas are amusing, and Llamasters uses a playfully merry cast to make them funnier than ever.
So, whether you're 13, 30, or 60 years old, you'll find yourself delighted by the droll wit of the llama characters (and others, too). Oh, and the best part is, the rounds are seriously engaging; surprisingly quick (with an average of 5 to 10 minutes per round); and delightfully easy to play; so, you'll find that your dreaded family night will have passed before you know it! Or, as I now like to state, before you or the terrible teens can say "I love llamas" five times fast.  
My experience playing Llamasters
During a recent games night with my partner and buddies, I'm not exaggerating when I say I had one of the most entertaining evenings I've had in a while playing Llamasters; and let me tell you, the game pairs well with a decent glass of whiskey. Having not seen our friends for a while, I thought I'd jazz up the night by introducing Llamasters to the group, seeing as it worked so well with the family. My friends and I have been guilty of spending many of our nights exhausting Exploding Kittens, so you can imagine how enthusiastic we were to try something new when it came to the world of card games.
One of the unique sells of Llamasters is that you can play in different game modes, and we had an absolute hoot playing using the 'Team Match' style. This mode lets you play in teams, rather than individually, and even though there were five of us, this wasn't a problem at all. With one team of two players (it meant my partner and I didn't end up killing each other), and our friends squaring up against us as a team of three, we drew up a scoreboard which took us deep into the night, as we battled on through killer sloths and magic forces to become the winning team of Master Llamas. It was whimsical, and the resulting laughs and funny moments were truly welcomed after we hadn't seen each other for so long.
Who'd have thought that llamas could bring and connect people from all walks of life, so well?
If you're reading this because you're a fan of Exploding Kittens and other card games, I'm certain your curiosity has piqued, and you're probably wondering what on earth Llamasters is about, and how you might play it. Well, settle down and grab a llamonade, because llama tell you (sorry). The aim of the game is to win, of course, but if you're one of those weird, rare players who doesn't have a competitive bone in your body, then don't panic, because you have other options, too. For example, if you're feeling particularly fiendish, you can simply opt to play to piss off the other players.
About the gameplay
The important thing to know is there are three types of cards: you have your action cards which are marked in blue (there are 36 in total), magic cards, and collectible cards (these are marked in white).The collectible cards are used to activate your magic cards, whereas the action cards set the course of action when playing the game. In your hand, you will have your treasured llama king or queen card, plus five cards dealt from the deck, as well as two magic cards (which should be placed face down in front of you).
Like Exploding Kittens, your turn ends with you drawing a card, and it's up to you if you want to play any of the cards in your hand before this. There are instructions on the cards which could completely change any planned direction you might have for the game, alongside particular character cards you can play at any time, such as action cards like Priority Llama and No Probllama. Action cards are mostly made up of various llamas, which if you choose to play, will result in a move being carried out, depending on the chosen card.
Cards
You'll find some necessary and enjoyable similarities to Exploding Kittens here; let me introduce you to the Thief Llama card, for example, where you can steal any card from another player. Or the Oracle Llama card where you can take a peek at the top four cards in the deck. Don't be fooled by the name of Smelly Llama, as it is extremely valuable and results in you not having to draw to end your turn. This could be a vital card if you know what's coming next – for example if there's a killer sloth waiting in line at the top of the deck.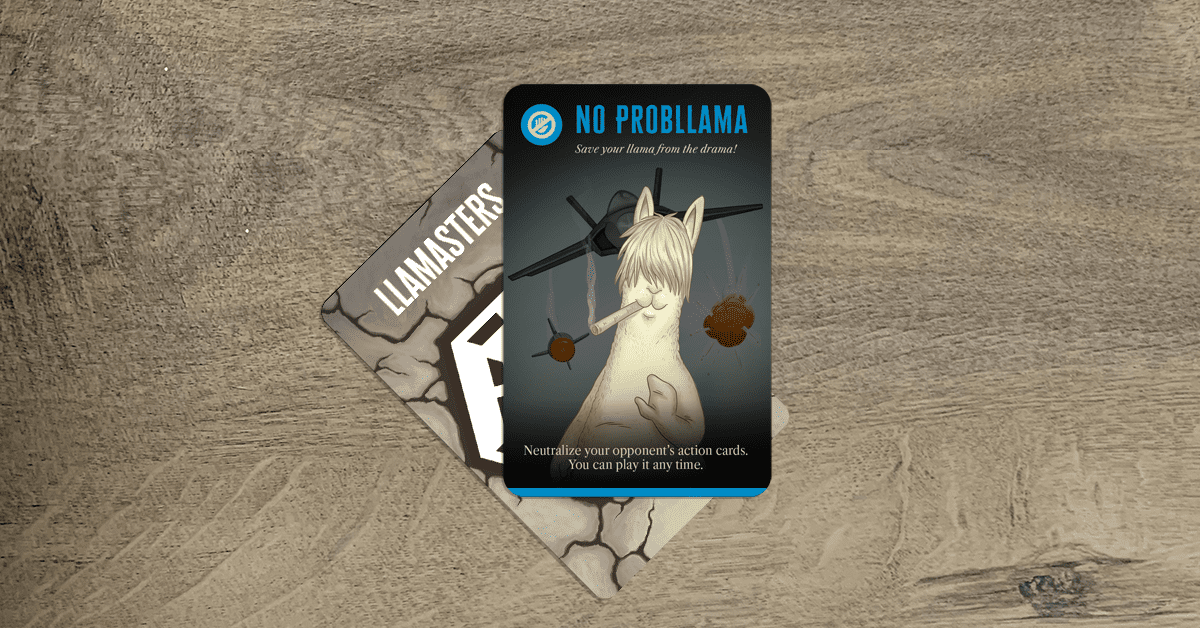 To make things even more interesting, Llamasters has a bunch of other unique and fun action cards, too. I had a full-on giggle fit after using the 'Card Switcher' which swaps your entire hand (except for magic cards) for another player's. There's also the 'Smash It!' card which provides the game with a whole other dimension. It has multiple uses: for example, if you strike last, you must draw two cards (if you played the card, you do not have to strike), or you can use the card to reenter the game using the augmented reality mode. My favorite action card, however, will have you panting for breath (unless you're a real healthy llama)… Allow me to introduce you to Coach Llama, where a selected player must do five squats, or draw two cards. Bet you didn't think you'd be getting your exercise done while playing Llamasters, huh?  
How to win?
If you're planning on winning, you have two options: you start the game by picking between one of the llama king or queen characters, and you win by keeping it in your possession until the end of the game. Your chosen llama king or queen card should be to you, what tea is to biscuits. You go together. You BELONG together. You form a relationship with your llama royalty because if you lose that card, you're looking at llamageddon – it's over. 
… Or is it?
After all, if it were that simple, llama drama wouldn't be a thing. You have another option: there are three Buddha Llamas in the game, and if you're able to collect all three of them, you win and become a Llama Master! Something I'm sure you've never aspired to be before, but in playing this game, you'll find yourself doing a lot of firsts. 
Why Llamasters is so unique & innovative
Let's circle back to where I've mentioned augmented reality a few times. Now, this is where the card game truly exceeds expectations and teeters on the edge of real llama drama fun in your living room, and genuine disbelief as you watch an animated killer sloth come to life through your phone. If you're not sure what this means, check out Llamaster's YouTube channel, where you can see how augmented reality and the Llamasters app works with the game. If you've already lost, and you're out of the game, well then no probllama!
Out of the game? No Probllama!
You can also use the augmented reality function to effectively rejoin the game. Sounds impossible, right? But it's not! And that's just one of the reasons I love this game so much.
You can actually use your phone to take a peep at cards in the deck to see what the upcoming cards are, and if you spy a 'Smash it!' card, grab hold of that one immediately because that's what will enhance your chances of winning the game again – even if you thought you were out.
Another way in which you can truly utilize the augmented reality mode, is to annoy other players by tripping them up, or you can choose to help your partner in Team Match mode – it's completely up to you! If you fancy sitting out a round and simply want to spectate, you can still be in the know through using 'spectator mode' of the AR function, too. Drop subtle hints to your partner – or don't – for me, this depends on how much they have pissed me off in previous rounds! Remember, you can only use the augmented reality app if you are out of the game, or not playing.
For strategists
For strategic gameplay using AR, let me provide you with some examples: if you've been knocked out of the game, you can use spectator mode (or magic mode) to see which cards are up next, and also what type of magic cards other players are in possession of. For example, if you know a 'Smash it!' card is up next, be prepared to strike to get yourself back in the game – you'll also have a good idea of who has the best cards, so you can use action cards such as Thief Llama or Card Switcher to steal them! Moreover, you will be able to formulate an excellent strategy through the use of your magic cards (if you haven't used them yet), if you make it back into the game.
Llamasters is designed to entertain, and as always, there's a need to be defensive against other players, but there are also dangers lurking within the deck of cards.
For example, your llama king or queen could be stalked and slain by a killer sloth that's been patiently waiting to strike, safely hidden within the realm of the deck. The Killer Sloth is the llamas' worst enemy, so you're going to want to act fast and use your llama guards. If you've lost your guard in your attempts to protect your kingdom, your llama king or queen can defend themselves – but just the once.
That's what I like about this game.
It offers the players several routes of being able to defend themselves or come back into the game, even after you think all hope is lost and llamageddon has occurred. It makes it far more entertaining and less tedious, especially when you compare Llamasters to Exploding Kittens or other card games.
After all, how often have you found yourself aimlessly scrolling through your phone on social media, after you've been eliminated from a card game that could continue on for a while?
Llamasters allows you to use your phone differently and re-enter (or cause havoc). The options are limitless, and I don't know about you, but I really appreciate how the game keeps you determined and hopeful. 
There's a lot more drama and depth to the game, too. I've barely mentioned the other cards: collectible cards have unique abilities, and you also require certain collectibles and action cards to activate specific magic cards. If you thought the action cards might wreak havoc, magic cards will take you to the next level of smugness or annoyance (depending on which side of the result you're on) and can completely turn a game around. There are 20 magic cards, and one of my favorites involves making all other players discard a character card (for example, you can get everyone else to bin their Llama guards). Another one worth shouting about (because it meant I won a game) is activating the magic card that allows you to collect just 2 Buddha Llamas and win. 
I think the graphics and style of the cards are also worth a mention. Aside from the characters being clever and hilarious to look at, the quality is also something else Llamasters should boast about. I'm not saying the cards are llaminated, if anything, they're better as they're full-bleed cards with smoothly rounded corners, and they genuinely feel good in your hands. Not something I'd thought or cared about before, but again, Llamasters has truly gone above and beyond with their card game, in every way you can think of.
Summary
Honestly, the best way to understand the wild and cruel world of Llamasters is to play it, so put Exploding Kittens down for a second, because you have a new purpose now: directing all your energy and attention to protecting your llama kingdom. Warning: it's dangerously addictive and full of contagious fun.
It's also crystal clear how much thought, love, and care has gone into making this game, so I wasn't surprised to learn that it took the developers over a year to get it to this point. You can imagine just how much money and research has gone into developing the augmented reality app too, and they're still looking to improve and enhance user experience across the whole game. If you wander over to the Llamasters Kickstarter campaign, you will also have the unique opportunity to gain a personalized llama character card. Plus, pledging means more dancing llamas, and who doesn't need that in their life?
Number of cards 81 (Oversized)
Succeed on Kickstarter: ✔️
Succeed on Kickstarter: ✔️